Early careers
James Fisher Offshore is excited about bringing the next generation into the energy industry and is proud to be part of the Meldrum Academy Business Partnership Group. It also work with other local schools, North East DYW and Skills Development Scotland for opportunities to bring apprenticeships to our organisation.
James Fisher Offshore is also signed as an employer of the Young Persons Guarantee https://youngpersonsguarantee.scot/
Past and present apprentices
Class of 22 studying SVQ 3 Business and Administration SCQF level 6 with NESCOL, while learning on the job at our headquarters in Oldmeldrum.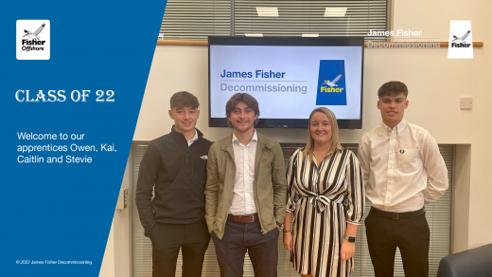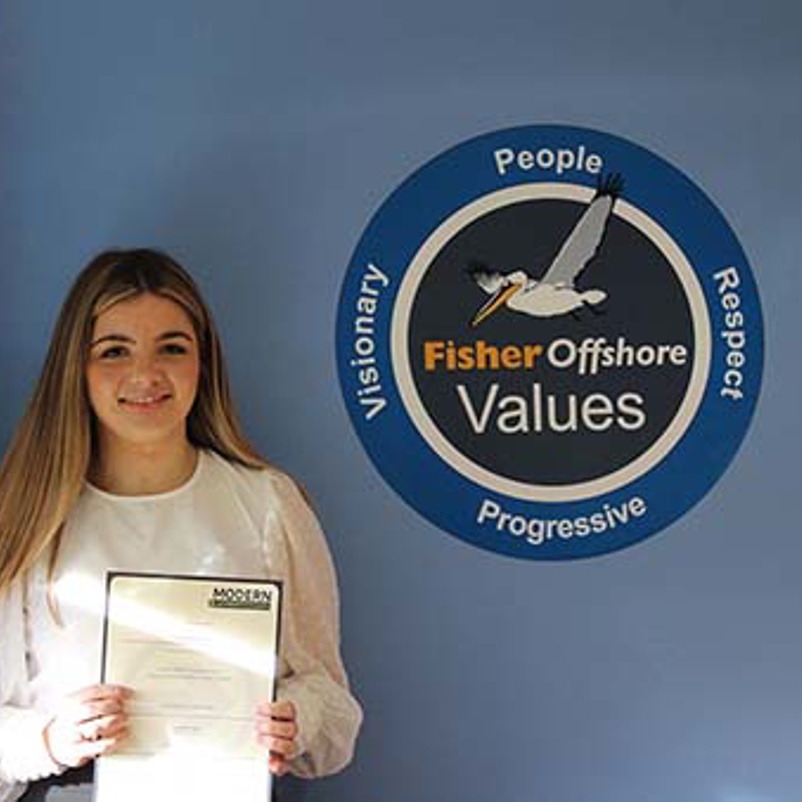 Erin recently completed her Business Administration Apprenticeship at James Fisher Offshore and is now a project coordinator within the life of field team.
"I have thoroughly enjoyed completing my apprenticeship. I've not only achieved a qualification, but I've gained experience and skills which will be invaluable to me throughout my career. I have been given a lot of great opportunities over the course of my apprenticeship, which helped me to not only understand more about the business/industry but has allowed me to feel more confident in the job I'm doing."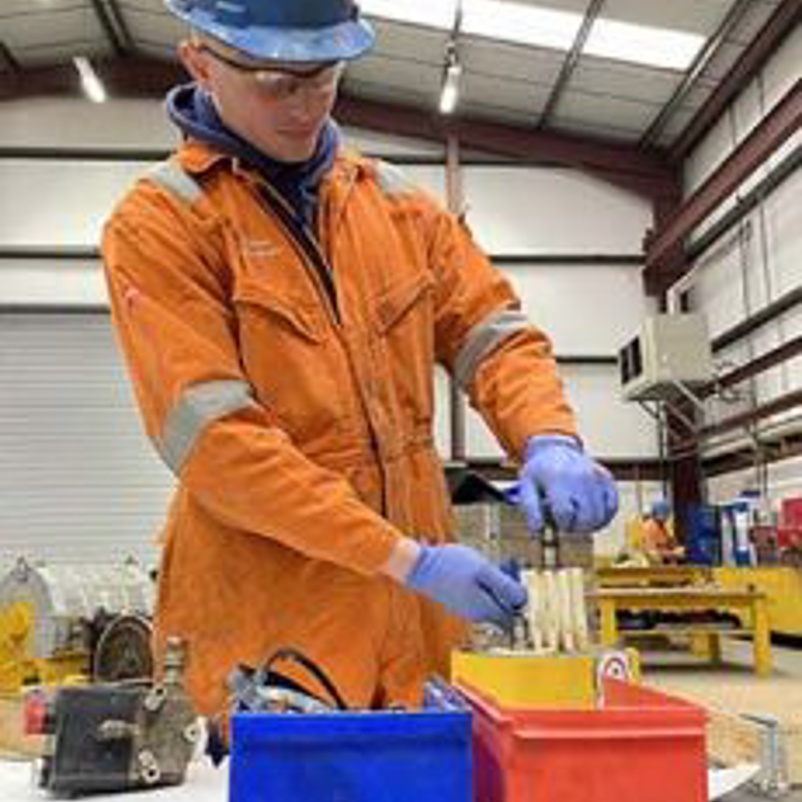 Shaun is a 3rd year Hydraulic Engineering apprentice, working on his workplace qualification, after completing his Core skills, PEO2 and NC at NESCOL.
"I really enjoy the mixture of college and being in the workshop. Now that I am in my 3rd year, I am working on my SVQ, gathering evidence for my portfolio and my assessor who will come to the workshop to assess me. I'm looking forward to being fully qualified and working full time in the workshop alongside the JF Decommissioning technicians."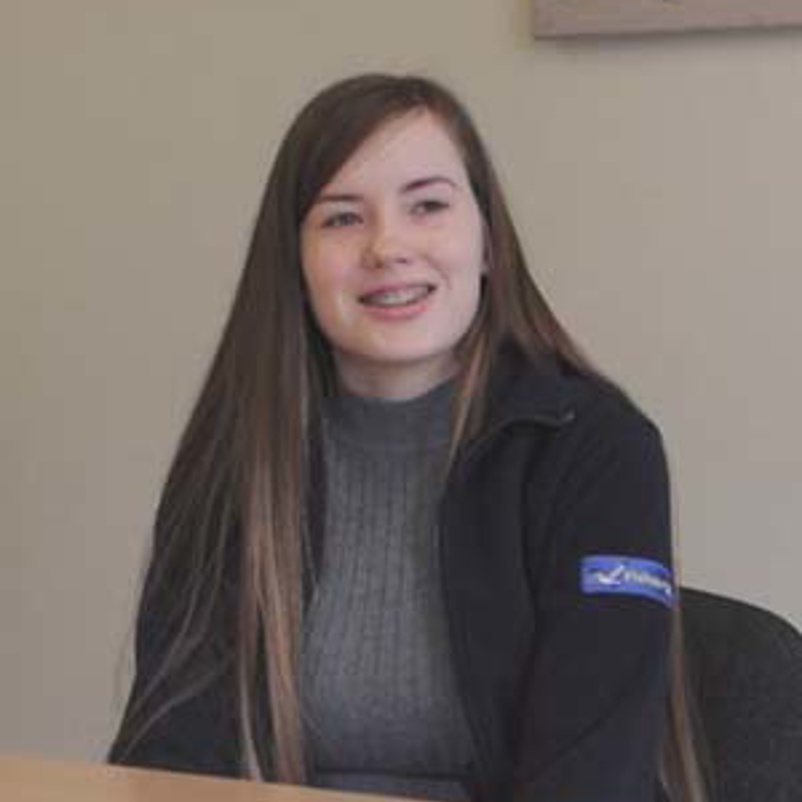 Jalissa came to James Fisher Offshore straight from school and having worked in the Operations Office for 2 years, has now started her Business Administration qualification.
"When I left school, I was ready for a break from learning. I have worked at James Fisher for 2 years and have just started my apprenticeship. I feel very lucky as now I can combine getting a qualification with my role, whilst also earning a wage."
FAQs
Currently, we have Hydraulic Engineering, Administration and Stores.
Modern Apprenticeships vary, our technical apprenticeships take four years, however where an apprentice is completing a workplace qualification this will take around 18-24 months.
Yes, apprentices are paid an hourly rate, which will be detailed in their contracts, and covers the hours spent training as well as working.
An apprenticeship is a good way of learning hands on in the workplace and being accompanied by an academic qualification. You can put your learning into practice as well as earning a wage at the same time. A foundation apprenticeship at school may be a good way of finding out if this is the route you would like to go down.
James Fisher Offshore have an Early Careers Programme, which structures your apprenticeship journey, setting out roles and responsibilities for those involved in the success of your apprenticeship. You will be given a mentor who will guide you, and you will have set learning objectives. We work closely with our training providers for feedback and set up regular meetings to discuss your progress.
Strategic partner
James Fisher Offshore are thrilled to be recognised as a strategic partner to Meldrum Academy. As part of the Meldrum Academy Business Partnership Group, James Fisher Offshore are supporting the school with a programme of family learning activities, with a career insight video for families and an opportunity to participate in a Q&A follow up session. We also have several employees signed up to mentor senior pupils as part of the schools Business Mentor Initiative.
"We are absolutely delighted to have James Fisher Offshore as a collaborative partner. Working closely with local businesses in supporting us at Meldrum Academy is extremely valuable as we work together to equip our students with the skills for life beyond school"
Ian Jackson, Head Teacher Meldrum Academy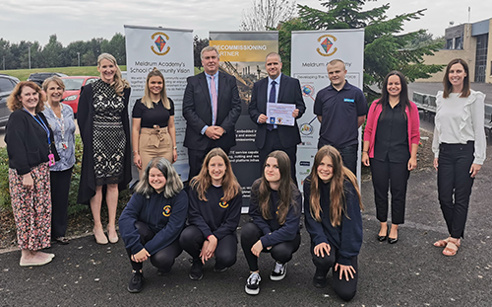 Further information
Want further info from James Fisher Offshore?  Contact us at info@fisheroffshore.com
The following organisations can provide advice and guidance on taking the first step into an apprenticeship